Jagadhodarana Lyrics – Shri Purandara Dasaru – Kannada Devotional
Jagadhodarana Lyrics by Daasara Pada. Jagadhodarana song is an Kannada Devotional song that is about the Lord Krishna.
The Shri Purandara Dasaru was the first to write Jagadhodarana Song lyrics. The music was composed recently by H K Narayana and VidyaBhushana.
The song was sung by Dr. Vidyabhushana.
Jagadhodarana Lyrics in Kannada and English
Jagadhodarana Devotional Lyrics – Shri Purandara Dasaru – Kannada Devotional Lyrics – Jagadhodarana Devotional Lyrics – Shri Purandara Dasaru – Kannada Devotional
---
| | |
| --- | --- |
| Singer(s) | Dr. Vidyabhushana |
| Lyricist | Shri Purandara Dasaru |
| Music | AH K Narayana and VidyaBhushana |
| Star-cast | NA |
| Director(s) | NA |
| Producer(s) | NA |
| Music Label | Anand Audio Video |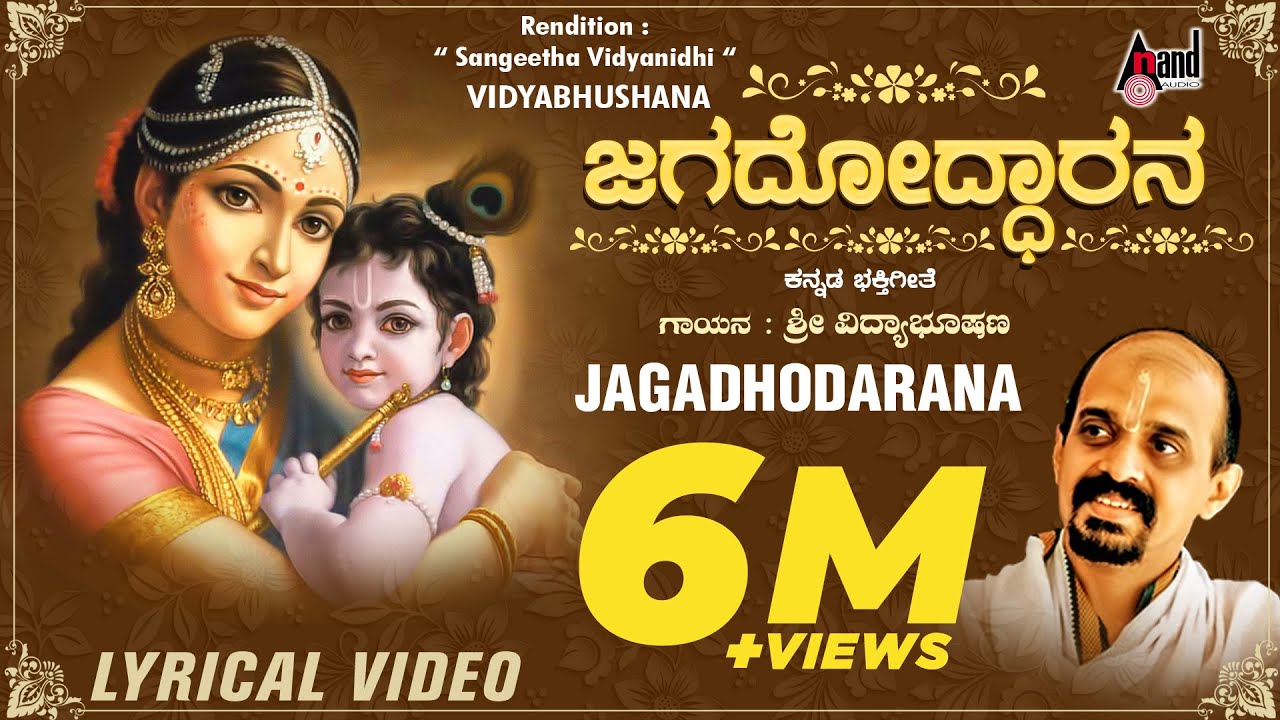 ---
---
Lyrics
Jagadhodarana Lyrics in Kannada
ಜಗದ್ದೋಧಾರಣ ಜಗದ್ದೋಧಾರಣ
ಆಡಿಸದಳೆ ಯೆಶೋಧ
ಜಗದ್ದೋಧಾರಣ
ಜಗದ್ದೋಧಾರಣ
ಮಗನೆಂದು ತಿಳಿಯುತ
ಸುಗುಣಾಂತ ರಂಗನ
ಆಡಿಸದಳೆ ಯೆಶೋಧ
ಜಗದ್ದೋಧಾರಣ
ಆಡಿಸದಳೆ ಯೆಶೋಧ
ಜಗದ್ದೋಧಾರಣ
ನಿಗಮಕೆ ಸಿಲುಕದ
ಅಗಣಿತ ಮಹಿಮನ
ಮಗುಗಳ ಮಾಣಿಕ್ಯನ
ಆಡಿಸದಳೆ ಯೆಶೋಧ
ಜಗದ್ದೋಧಾರಣ
ಆಡಿಸದಳೆ ಯೆಶೋಧ
ಜಗದ್ದೋಧಾರಣ
ಅಣೋರಣಿಯನ
ಮಹತೋ ಮಹಿಯನ
ಅಪ್ಪ್ರಮೇಯನ
ಆಡಿಸದಳೆ ಯೆಶೋಧ
ಜಗದ್ದೋಧಾರಣ
ಆಡಿಸದಳೆ ಯೆಶೋಧ
ಜಗದ್ದೋಧಾರಣ
ಪರಮ ಪುರುಷನ
ಪರ ವಾಸುದೇವನ
ಪುರಂದರ ವಿಠಲನ
ಆಡಿಸದಳೆ ಯೆಶೋಧ
ಜಗದ್ದೋಧಾರಣ
ಆಡಿಸದಳೆ ಯೆಶೋಧ
ಜಗದ್ದೋಧಾರಣ
Jagadhodarana Lyrics in English
Jagadodharana Jagadodharana
Aadisadale Yeshode
Jagadodharana
Jagadodharana
Maganendu Thiliyutha
Sugunaantha Rangana
Aadisadale Yeshode
Jagadodharana
Aadisadale Yeshode
Jagadodharana
Nigamake Silukada
Aganitha Mahimana
Magugala Maanikyana
Aadisadale Yeshode
Jagadodharana
Aadisadale Yeshode
Jagadodharana
Anoraniyana
Mahatho Mahiyana
Apprameyana
Aadisadale Yeshode
Jagadodharana
Aadisadale Yeshode
Jagadodharana
Parama Purushana
Para Vaasudevana
Purandara Vitalana
Aadisadale Yeshode
Jagadodharana
Aadisadale Yeshode
Jagadodharana
Jagadhodarana Devotional Lyrics – Shri Purandara Dasaru – Kannada Devotional Watch Video